Alpha Phi Alpha, the first intercollegiate Greek-letter fraternity in the United States established for men of African descent, was founded at Cornell University in Ithaca, New York by seven college men who recognized the need for a strong bond of Brotherhood between African-Americans. The visionary founders, known as the "Jewels" of the Fraternity, are:
These seven young men felt there was a need for more Black unity on Cornell's predominately white campus. Since other avenues in Greek life at this time were not readily accessible to many Blacks, these men took it upon themselves to take the first steps in forming the traditional Black Greek system.
The Fraternity initially served as a study and support group for minority students who faced racial prejudice-educationally and socially-at Cornell. During those beginning days, the Jewel founders and early leaders of the Fraternity worked to lay a solid foundation for Alpha Phi Alpha's principles of scholarship, fellowship, good character and the uplifting of humanity.
Alpha Phi Alpha has evolved into an organization that takes pride in attempting to right many wrongs society has bestowed upon us. Alpha's constant efforts of increasing the educational, economic, and social well-being of the Black people in the United States are unparalled. These efforts are evident in our direct participation in numerous national organizations and our financial contributions to their programs oriented to handle problem areas such as civil rights, poor housing, and inadequate education of our youth. Alpha Phi Alpha was a proud sponsor of the recent Million Man March last year in Washington D.C. And our philanthropies are the NAACP, United Negro College Fund, and the National Urban League. Alpha Phi Alpha's fraternity motto is:
Alpha Phi Alpha National Programs:
MENTORING
The Fraternity's national programs are devoted to the uplifting of the African American community. Alpha Phi Alpha today has formed national mentoring partnerships with organizations dedicated to helping minority youth, such as Big Brothers/Big Sisters of America, Boy Scouts of America, March of Dimes and the Head Start program. The Fraternity also is involved with the Habitat for Humanity project to provide decent and affordable housing to the needy.

WORLD AND NATIONAL AFFAIRS
Alpha Phi Alpha has made its voice heard at the highest levels of government. The Fraternity has made its position known to Congress and the White House on issues such as the nomination of Dr. Henry Foster as U.S. Surgeon General and the Republican attack on affirmative action. Alpha Phi Alpha has aided victims of the Oklahoma City bombing. The Fraternity leads an effort in Congress to establish a memorial to Dr. Martin Luther King, Jr. on federal land in Washington, D.C. Alpha Phi Alpha's political presence is felt in the nation's capital during Alpha Phi Alpha's annual reception for members of the Congressional Black Caucus. The Fraternity's position on matters affecting people of African origin around the world is represented through its ambassadors to the African/African-American Summits.

EDUCATION
Education and scholarship remain major focuses in today's Alpha Phi Alpha. The College Scholarship Bowl testing the intellect of Brothers was introduced in the current era as a feature of General Conventions. The Fraternity's Go to High School, Go to College program, first established in 1919, was reintroduced; and a General Presidents Scholarship was endowed as part of Alpha Phi Alpha's Education Foundation.

CONTINUING THE LEGACY
The Fraternity has established an Alpha Phi Alpha Archives at Howard University in Washington so that the history of the organization which parallels the success of African Americans will be preserved. As African Americans and underprivileged people around the world continue to struggle for their God-given rights of freedom, justice, equality and human dignity, the Fraternity continues to stand at the forefront of efforts to win those rights. Alpha Phi Alpha today continues in the spirit of leadership the Fraternity has demonstrated since 1906.

ALPHA AND THE NAACP
Alpha Phi Alpha Fraternity today continues to serve as a light to the community. The Fraternity is involved in a campaign to assist the financially-troubled NAACP. In assisting the countryÝs oldest civil rights organization, the Fraternity has renewed its long-standing partnership with the NAACP and pledged to donate monies to the group. Alpha Phi Alpha donated more than $30,000.00 to the NAACP during the FraternityÝs 89th Anniversary Convention in Orlando, Florida. In addition, the Fraternity's chapters are giving financial support to the NAACP by purchasing life memberships. Alpha Phi Alpha similarly aided the NAACP in 1960 when Fraternity Brothers Thurgood Marshall and then General President Judge Myles A. Paige led an effort to restore the freedom-fighting organization to leadership and power. In the early 1980s, Alpha Phi Alpha again supported the NAACP and several other black organizations with a $1 million fundraising campaign. Alpha Phi Alpha Program Highlights.

PROJECT ALPHA
A program that helps teenage males learn about their role in preventing teenage pregnancies from a male perspective. The first program of its kind in the nation, Project Alpha has served as the model for a new generation of male responsibility programs now in existence.

ALPHA ACADEMY
A program that helps prepare high school students for college study. During an eight-week intensive program, high school seniors study English, mathematics, history, science and computer science. They are exposed to learning strategies and a wellness way of life involving nutrition, exercise and stress management practices.

LEADERSHIP TRAINING INSTITUTE
A program designed to teach leadership skills to high school juniors and seniors. Alpha Phi Alpha provides a forum for men of all ages to hone the skills necessary for leadership in the larger society. With experience gained while serving as chapter officers, convention delegates, committees members, etc., Alpha Phi Alpha members are able to teach parliamentary procedure and public speaking skills vital to success in the business world and society.

GO TO HIGH SCHOOL, GO TO COLLEGE
A program counseling youth on the importance of post-secondary education while introducing them to promising professions. Through the program, students and their families are provided information about college entrance and financial aid. The counseling thrust is augmented by a vigorous scholarship program for college-bound youth.

ALPHA HEAD START PROJECT (MALE PARTNERSHIP INITIATIVE)
A mentoring program designed to increase the participation of fathers and other significant males in the lives of their children who also participate in the program. The partnership was influenced by a revelation that many fathers did not play necessary and significant roles in the lives of their children. The lives of more than 4,000 parents and children have been enhanced since the partnership was created between Alpha Phi Alpha and the National Black College Alumni Hall of Fame, Inc., the Department of Health and Human Services and Region IV Head Start Programs was created.

NATIONAL MENTORING PARTNERSHIPS WITH BOY SCOUTS OF AMERICA AND BIG BROTHERS/BIG SISTERS OF AMERICA
The work of Alpha Phi Alpha, Big Brothers/Big Sisters of America and Boy Scouting to prepare our children to be confident and responsible adults is important to our future. Alpha Phi Alpha and Big Brothers/Big Sisters formed a national partnership in 1990 to match youth with Fraternity adult volunteers. Alpha Chapters use Scouting as a resource for youth development while operating their own Scouting units and providing Alumni Brothers to serve as council and district Scout leaders.

COMMI$$ION ON BU$INE$$ AND ECONOMIC DEVELOPMENT
Encourages collaboration with Fortune 500 companies for business and economic training and development of our youth.

A VOTELESS PEOPLE IS A HOPELESS PEOPLE
The Fraternity continues its vigorous program to register and educate voters and get them to the voting polls on election day. The voter registration slogan developed by Alpha Phi Alpha in the 1930s continues to serve as a battle cry for the Fraternity's voter registration and education efforts.

COOPERATIVE PROGRAMS
The Alpha Phi Alpha General Organization and local chapters frequently join with other non-profit organizations and social service agencies to implement special projects. The NAACP, National Urban League, United Negro College Fund, American Cancer Society, American Heart Association, Sickle Cell Anemia Foundation, Operation PUSH, Southern Christian Leadership Conference, Salvation Army and United Way are among the many groups which benefit from donations of time, money and talent from the thousands of Alpha Phi Alpha Brothers across the nation committed to public service as a way of life.

The Fraternity's national programs date back to 1919. Despite its substantial growth - in membership and in prorgams - the Fraternity's aims remain the same as they were in 1906: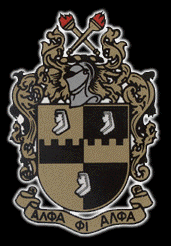 Return back to HOMEPAGE!