Chapter Origin, Scope & Charter Members

The Epsilon Chi Lambda Chapter (Key# 232) of Alpha
Phi Alpha Fraternity, Incorporated was founded on December 7,
1953 at Hertford, North Carolina. The seat of organization,
was Elizabeth City State Teacher's College
now Elizabeth City State University.)

There were twelve Charter Members. These Brother were:

Thomas Lee Caldwell




George Littleton Davis




Attrus C. Fleming, Jr.




Broadus Bryant Jackson




Richard Leroy Kingsbury




Burke Cromwell Newsome




Edward Nathaniel Smith




LeGrand R. Summersett




DeMint Frazier Walker




Robert Maurice White




Sidney David Williams

The General Organization amended the Chapter's Charter
on September 28, 1968. This action, requested by Epsilon
Chi Lambda in order to give an "Umbrella" for Brothers
distant from Elizabeth City, expanded to the Chapter's
jurisdiction to include the following North Carolina
counties: Camden, Chowan, Currituck, Dare, Gates, Hertford,
Pasquotank, and Perquimans; and the North Carolina
localities known as Columbia, Plymouth, and Windsor.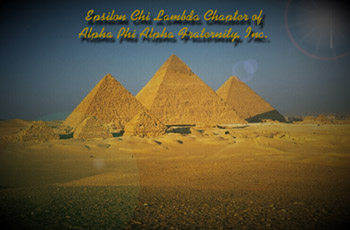 The Chapter's first Banquet, called a "Mid-Winter Banquet,"
occurred February 11, 1968 at the Holiday Inn located
in Elizabeth City, North Carolina. The speaker was the
Brother Dr. Lionel H. Newsom, the General President of
Alpha Phi Alpha. Also among the 28 Brothers present were
Southern Vice President Chatman, Brother A. J. H. Clement,III,
the Regional Director for North Carolina and Brothers from
Norfolk and Chesepeake, Virginia, and Greenville, North
Carolina.
Chapter Projects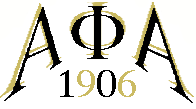 Over the years of its existence, Epsilon Chi Lambda has
engaged in a number of projects not specifically related
to awards. Some of these activities are the following:
Continous support and interaction with Beta Zeta Chapter
from its founding on February 21, 1954 (the first fraternity
at Elizabeth City State University.)


Producing Chapter Directories


Chapter representation at State, Regional, and General
Conventions, ANCA meetings, and Albermarle and National
Pan-Hellenic Council (NPHC) meetings/conventions.


Spearheading the creation on the Albermarle Pan-Hellenic
Council and March 23, 1968.


Holding Founder's Day Observaces in various North
Carolina localities.


Recognition of an individual Brother's successes.


Sponsoring youth's papers in Alpha Phi Alpha Foundation
contests.


Submitting material to "The Sphinx" and other media.


Supporting area and other Brothers in political campaigns.


Holding annual scholarship dances.


Visiting area Rest Homes on Mother's Day.


Attending church services as a chapter.


Supporting the Albermarle Food Bank.


Sponsor the "Go to High School, Go to College" program.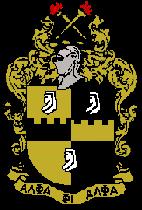 2002-2003 Chapter Roster
PRESIDENT: Claudie J. Mackey
VICE-PRESIDENT: Leon Rouson
RECORDING SECRETARY: Donald R. McClain
CORRESPONDING SECRETARY: Lindsey James
TREASURER: Michael A. Godfrey
HISTORIAN: Leonard R. Ballou
PARLIAMENTARIAN: James E. Hedgebeth
CHAPLAIN: Rev. Charles L. Foster
DIRECTOR OF EDUCATIONAL ACTIVITIES: Anthony R. Brumsey
INTAKE COORDINATOR: Donald R. McClain
ASSOCIATE EDITOR OF THE SPHINX: Billy C. Hines


Ballou, Leonard R.
Belfield, C. Louis
Brumsey, Anthony R.
Farley, Andre
Foster, Charles L.
Godfrey, Michael A.
Godfrey, Reuben L. Jr.
Grant, William C.
Hayden, Kuchumbi
Hedgebeth, James E.
Hines, Billy C.
James, Lindsey
Jones, LaVern
Little, Thurlis T. Jr.
Mackey, Claude J.
McClain, Donald R.
McLean, Roger A.
Mullen, Jerry
Neal, Victor S.
O'Neal, Eugene
Price, Anthony W.
Rouson, Leon
Sizemore, Charles L.
Walker, Albert L.
Walker, Roosevelt
White, Willie